Donate
To make a one-time or continuing donation for stewardship, a memorial or a general donation, click the image above to give through Tithely. You will need to open an account and choose a pin to use the site. Stewardship will then be directly debited from the account of your choice.
---
Stewardship
---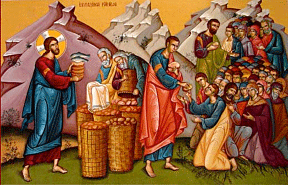 ---
Our Lord feeding the 5,000
An Orthodox Christian Steward is an active participant in the life of the Church. The parish encourages all who accept the Orthodox Faith to become practicing Stewards. Each year the Steward is expected to carefully review his or her personal circumstances and make a commitment of time, talent, and treasure to support the Parish and her Ministries. For questions regarding stewardship or our stewardship program, please contact our at office@holytrinitywaterbury.org or (203) 754-5189.